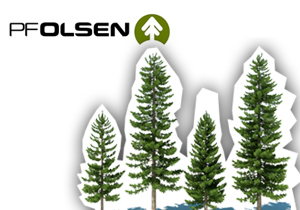 Integral has developed an innovative system for PF Olsen, a leading independent provider of forestry services.
The Integral solution increases efficiency, reduces waste, improves customer service and optimises the supply chain for the forestry giant.
PF Olsen Supply Chain Manager Stephen Bennison says the result, called Enterprise Resource Planning, is a world class system that's very user friendly. Each database module automates the process within a certain function of the business and enables process and information integration across the business.
It removes the need for stand alone computer systems and replaces then with a single, unified, dedicated software programme. The modules can all 'talk' to each other and have the same look and feel, but can also be used independently of each other.
Stephen says the company now has a robust sales and operational planning system that balances production, sales and inventory needs on a monthly basis.
The information that we're getting now is amazing and the reports are being used by all managers. Every time a truck goes across a weighbridge it gets weighed and the information comes straight into our system. Cut plans are automatically generated and emailed to contractors. Crews can log in via the internet and enter their production estimates on a weekly basis, making it easy for the scheduler to verify it against the high level plan.
Stephen says Integral's approach is very professional and very thorough.
I knew what needed to be achieved. We weren't making the improvements we wanted through the old spreadsheet-based system because people were spending a lot of time manipulating data rather than improving business performance.
Stephen says he likes the fact that Integral was not afraid to challenge its client's thinking.
They take a step back, look at what you're trying to achieve and ask the right questions. They're always looking for a better solution.