Community Involvement
At Integral, we don't just invest in the success of our customers, we also invest in the success of our community.
Community involvement is a long-standing company objective and every year we contribute to and help, the communities where we live and work. We are proud to have been invoiced with the following Commercial Event Sponsorships and Community Group Donations and Sponsorships:

DX2017/DX2018
Dx2017 and Dx2018 provided local and international insights on the digital transformation trends and strategies driving the future

2017 | HarvestTech
HarvestTECH provides an essential and independent platform to showcase new innovations and operating practices suited to local harvesting operations..

2014/2015/2017 | ForestTECH
ForestTECH is NZ and Australia's leading annual forest management technology series, providing forest management companies with the latest technologies, innovations and practical tools to increase the productivity of forest operations.

2016 | Wood Flow Optimisation
We are excited to be part of Australasia's premier technology event providing practical tools, new innovations and key insights to help improve planning, logistics and operations within the wood supply chain.

2016 | Strategies for improving patient flow forum
Integral, in partnership with HealthIQ, sponsored this Forum which covered the topics of Patient Flow, Patient Experience, Hospital, Health Systems and Healthcare Industry.

2014/2016 | ForestWood
This forestry and wood-products themed event is the only opportunity to participate in a whole-of-industry conference in New Zealand.
2015 | UXR Red Rock Oracle Leadership Forum
Integral was happy to sponsor this must-attend event for anyone invested in Oracle technology and applications.

2014 | Salesforce Essentials
Integral is proud to have been a sponsor at the Auckland, Sydney and Melborne Salesforce Essentials event. This is a great event for the Salesforce.com community.
2014 | Wood Flow Logistics
Integral was proud to be involved in this great event, which showcases practical tools & new innovations to improve planning, logistics & operations within the wood supply chain.

Kaharoa Kokako Trust
Integral are proud to be a longtime sponsor of this great trust, working to protect kokako living in the Kaharoa Conservation Area, near Rotorua.

The Cancer Society Of New Zealand
The Cancer Society of New Zealand is the leading organisation dedicated to reducing the incidence of cancer and ensuring the best cancer care for everyone in New Zealand.

Rotorua Community Hospice
Hospice care has a unique whole person approach – which means physical, spiritual, emotional and social needs are equally important – a multidisciplinary team provides care for the person who is dying and their families and friends, both before and after a death.

Kaharoa School Trolley Derby
A fun event for us to be involved in, the trolley derby is held annually to raise funds for Kaharoa School and in remembrance of a much-loved father from the community, Mike Donnelly.

KartSport Manawatu
Integral sponsored the Manawatu Kart Sprint Track. Club days every 2nd Sunday of the month. Visitors very welcome!

Triathlon Hawke's Bay
Integral is proud to be a Silver Sponsor for Triathlon Hawke's Bay, a triathlon and duathlon based club. A highlight this year was in helping bring top NZ ironman triathlete, Cameron Brown, to the Annual Awards Dinner.

Rotorua SPCA
We were proud to have contributed to the Rotorua SPCA, a leader in animal welfare and committed to improving the lives of animals in our community. Their staff and volunteers work tirelessly to care for and protect animals across the Rotorua district, guided and inspired by our vision for the future.

Gosoku Kai
We were happy to have sponsored the Gosoku Kai Family Martial Arts Centre, a non-profit Karate club that teaches children confidence-building, life-long skills, and respect. Classes are held at dojos in Rotorua, Ngakuru and Taumarunui.

We were happy to have sponsored the Mount Manganui Primary School Pool Upgrade Project. The Project was to upgrade the pool which included adding heating.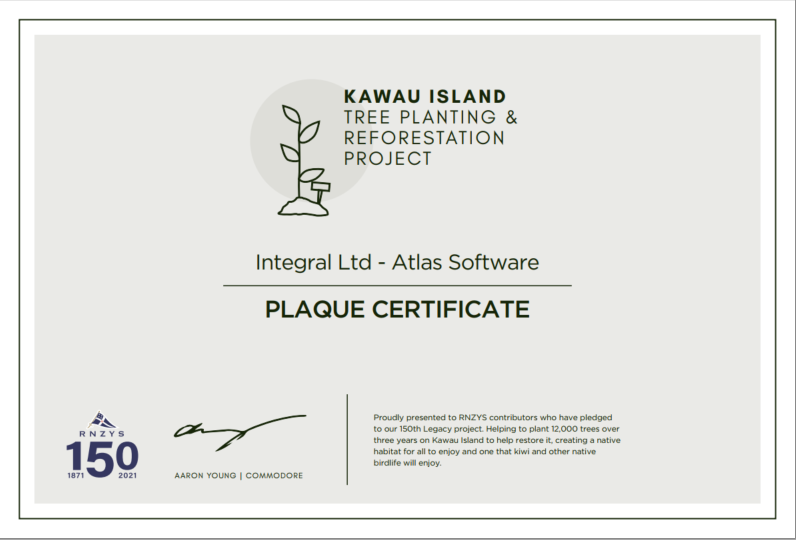 Kawau Tree Planting and Reforestation Project
We were happy to donate to their Kawau Tree Planting and Reforestation Project at their site on Kawau Island.
Their aim is to garner around 5,000 native plants, including specimen trees. They are also proposing a nursery that can hold those plants that they do not manage to plant.