Magic® EDI Service Platform
Digitize and automate business processes.
The electronic data exchange between B2B partners through EDI (Electronic Data Interchange) enables your company to continuously digitize and automate business processes. This results in more efficiency and agility, as well as cost savings per document.
Magic offers a standard solution for B2B integration and electronic data exchange with the Magic EDI Service Platform. Whether you are a customer, supplier or forwarding agent – you can now exchange data electronically with all your partners.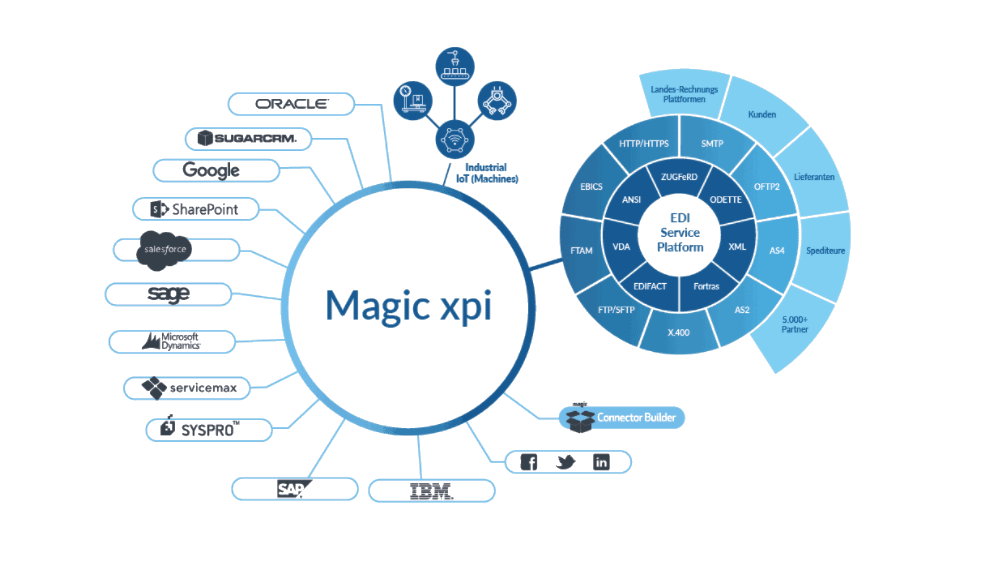 Designed to send and receive EDI documents.
When receiving an EDI document, a Magic xpi Business Process decides how to route the data into other systems, such as SAP, Salesforce, SugarCRM, JD Edwards etc., and calls an API using an application adapter.
Suitable for your business
Say goodbye to oversized EDI solutions, high entry costs, long-term implementation processes, and expensive updates.
A central EDI Platform
Perfect automated B2B data exchange with your business partners using a central EDI solution.
Fast & effective
As a supplier, you benefit from immediate availability of preconfigured EDI partner profiles for digital connection to your customers. Faster, easier, lower priced.
Everything revolves around your connections
With over 5,000 ready-made partner profiles and 500,000+ daily transactions, you can rely on a stable and modern EDI Platform. In addition, keep your options open for further automation and integration to control all data flows through a single, modular platform. Over 100 pre-configured connectors to applications, databases, APIs, platforms and systems in the cloud offer you the possibility of uncomplicated integration – far beyond the connection of B2B partners.
Supported data formats & message standards
Preconfigured standards for each industry and region and immediately available connections to over 5000+ EDI partner profiles worldwide.
EDI B2B scenarios
The Magic EDI service platform as a standard solution for the secure and efficient integration of B2B partners, suppliers and customers.
Supported data sources & protocols
With regard to data sources and communication protocols, the Magic EDI service platform offers you all the options.
Fast and Easy
Magic connects faster than ever and delivers all EDI B2B services on the Magic EDI Service Platform.
Magic EDI is an open Platform-as-as-Service (PaaS) based on the latest in-memory technologies and enables the digital transformation of companies through intelligent platform services.
Connect to the platform once and you can reach all partners and systems that are already connected.
Harmonize processes & systems
Originally posted by Magic Software.