Magic® xpa
Application Platform
Magic xpa application platform is part of Magic's end-to-end enterprise mobility solutions, which includes Magic xpi Integration Platform, Magic Mobile Device Management, and Magic Mobile Professional Services, providing a holistic solution for enterprises that want cost-effective solutions to provide secure, enterprise-grade mobile apps for customers, partners, and employees.
Easily, Building Angular-Based Web Application Using xpa
You can now easily create modern business apps powered by Angular to provide a rich user experience and meet the increasingly complex enterprise business expectations for digital transformation.
Think outside the box
Magic has always been known for thinking outside the box and now Magic has done away with the box. This means that you can now take your Magic xpa business logic for both; the back and the front end, and easily generate Angular code from it.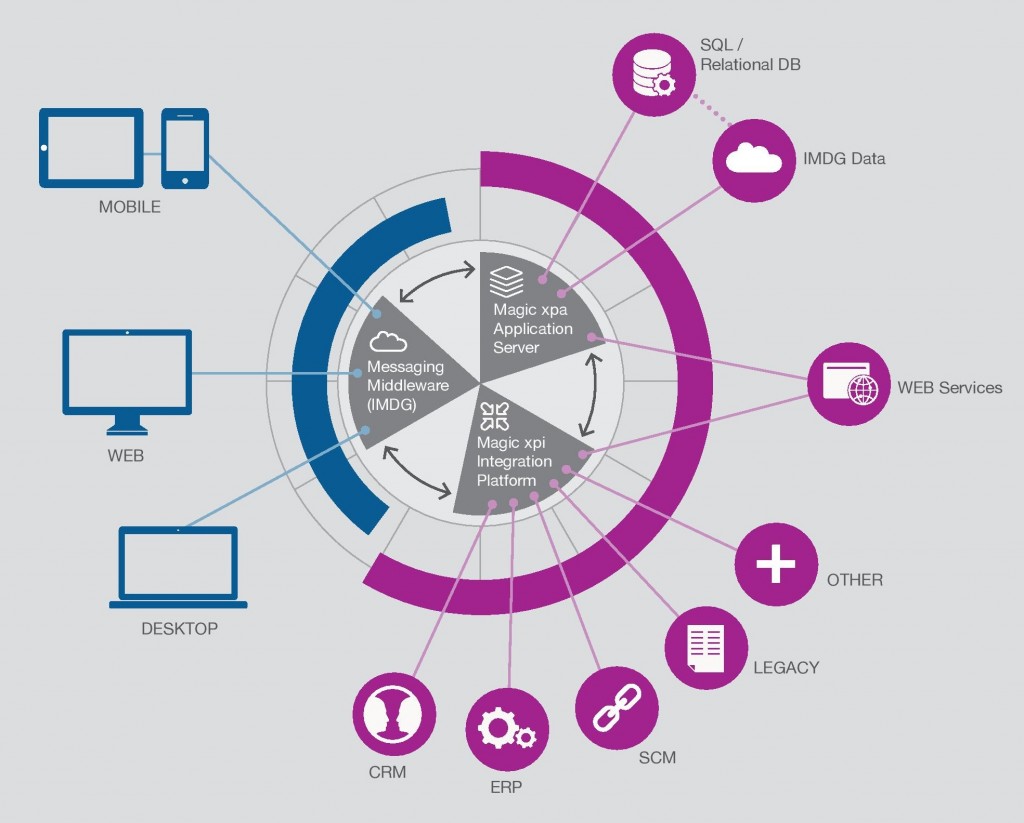 Main Benefits of Magic xpa:
Fast Time to Market
Rapid app development and delivery is made possible with Magic xpa's low-code platform and visual designer.
Low TCO
Multi-channel development platform. One skill set for all popular operating systems and deployment modes. Minimum deployment and maintenance efforts.
Minimum Risk
Metadata-driven product with fully tested pre-written code. An evolving product that adapts to accommodate new technologies and changing markets.
Highly Productive
Code-free drag and drop studio. Mobile preview pane. Pre-set mobile development mode. Pre-defined and reusable elements and components let users concentrate on creating the best business logic rather than the technical complexities.
Flexible
Develop once, deploy anywhere (Windows, Linux, Unix, IBM I, Android, iOS, Windows 10 Mobile, cloud, on-premise). Easily switch client devices as market or business requirements change. Scale-up quickly without changing your app.
Rapid Cross-Platform Development
Magic xpa Application Platform is a code-free, visual development and deployment environment.
Magic xpa lets you leverage the same business logic to develop once and deploy across platforms. You can create a portfolio of high-performance business apps with a single skill set and minimal resources.
By allowing you to develop, maintain and update apps quickly and cost-effectively, Magic supports your digital transformation and enterprise mobility strategies, making it easy for you to give your business a competitive edge.
Join thousands of enterprises and ISVs around the globe who are already using Magic xpa to create powerful multi-channel business apps, including:
Flexible, Powerful and Proven
Magic's powerful application platform gives you the flexibility to create apps to match the business processes you need. And UX features, such as our Run-time Form Designer which enables end-users to customize screens and forms without coding or developer intervention, maximize end-user adoption.
Powering Successful Business apps
Key Features Include:
When you choose Magic, you also gain:
Global customer and organisation support
Strategic alliances & partnerships with mobility solutions
Rich professional services expertise and support
Extensive partner network and developer community
Application development and integration