FOLPI-XL
Estate-wide production modelling
FOLPI-XL is an optimisation tool for evaluating forest management and investment strategies. It is intended to answer questions such as:
(FOLPI is an acronym for Forest-Oriented Linear Programming Interpreter)
FOLPI-XL uses familiar Microsoft Excel worksheets to describe the current resource and the criteria that define the company's management strategy. The solution will be optimized to achieve either maximum NPV, or maximum timber production. The results of the analysis, such as expected wood-flow or cash-flow are also presented in Excel worksheets. For example: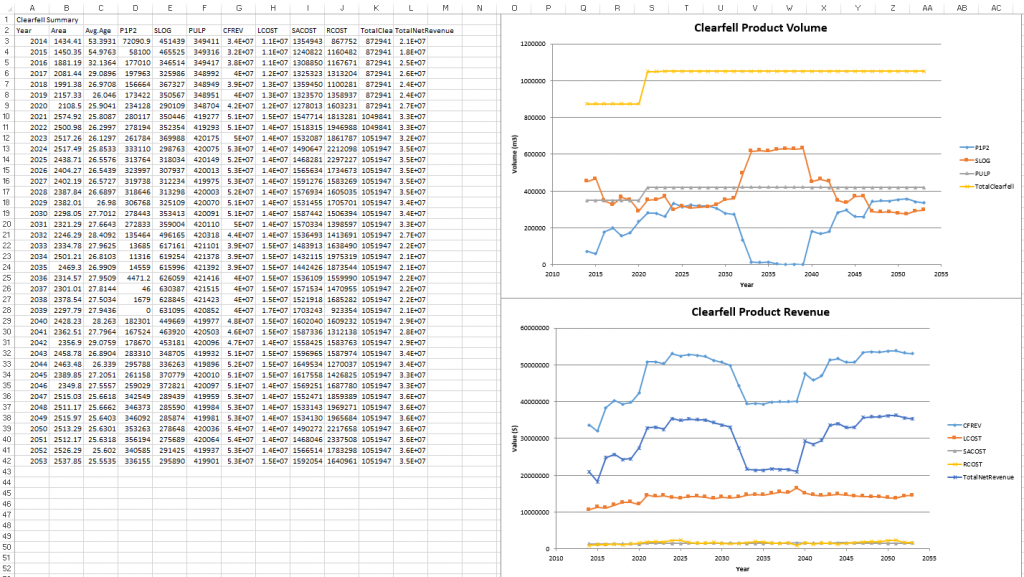 | Benefits | Features |
| --- | --- |
| Decision Support | Different management strategies can be analysed and compared to determine the best approach to achieve desired objectives. |
| Economic Support | For a given pricing model, FOLPI-XL will generate a valuation for the estate. |
| Long-term Storage of outputs | Outputs are written to SQL Server database. |
| Familiar interface | Inputs and outputs are managed within Microsoft Excel. |
| Clear outcomes | Results are automatically presented in tabular and graphical formats. |
FOLPI-XL integrates with other ATLAS tools in that it obtains Croptype by area information from Geomaster, and Yield Information from Yield Table Manager.