Magic® xpi
Integration Platform
A single platform for dynamic, limitless connectivity with a code-free, low-maintenance approach, Magic xpi integrates all your business systems on the cloud, on-premises or in hybrid deployments so your company can maximise its opportunities.
Your Friendly, Right-Sized Integration Solution
With an increasing number of integration projects on your plate, IT needs an easy and cost-effective solution to successfully execute, maintain and modify them.
Magic® xpi is your ANSWER.
Magic's code-free, visual approach and unrivalled connectivity makes integration fast and trouble-free.
Magic xpi takes care of all of the difficult integration and optimization behind the scenes, so you are free to concentrate on designing the best processes and flows to support your business goals.

The Magic Advantage:
Magic xpi Integration Platform is part of Magic's End-to-End Enterprise Mobility Solution which includes Magic xpa Application Platform, Magic Mobile Device Management and Magic Mobile Professional Services, providing a holistic solution for enterprises that want a cost-effective solution to provide secure, enterprise-grade mobile apps for customers, partners and employees.
Sync. Streamline. Scale
Unlimited ways to increase competitiveness
Transform:
Your Business by reinventing the way data and processes flow across your CRM, ERP, WMS, SCM, finance, third-party apps and other legacy or cloud-based systems.
Enhance:
Operational efficiency, compliance, and improve data quality by synchronizing master data and automating processes between backend systems.
Empower:
Employees with a 360-degree view of your customers by connecting CRM, ERP, shipping, customer support, social media and more.
Improve:
e-commerce processes with real-time inventory views and order processing.
Innovate:
with IoT projects using Magic's MQTT adapter.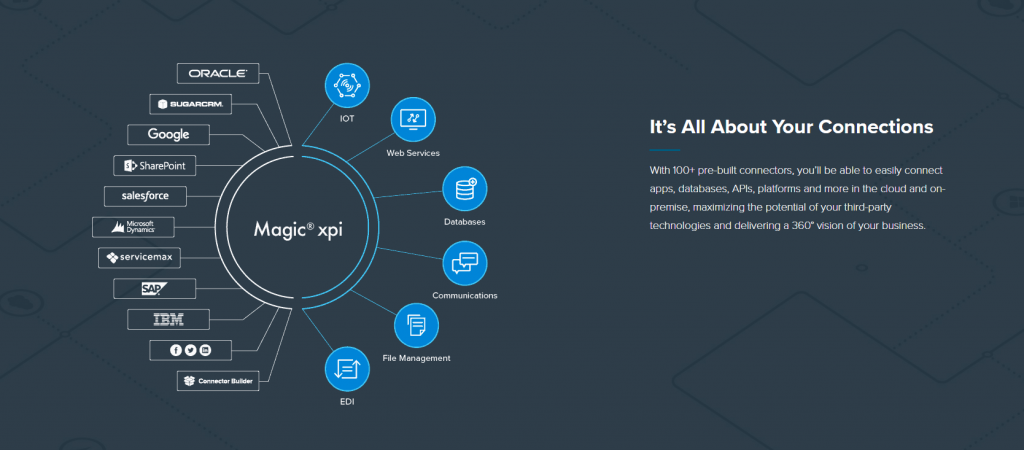 Important Features you NEED without the overkill you DON'T.
Pre-Built Applications Adapters
Google:
Google Calendar, Google Drive, OAuth
IBM (Lotus):
Domino, Notes DB, System i
Microsoft:
Dynamics AX ERP, Dynamics CRM, Exchange, SharePoint
Oracle:
JD Edwards EnterpriseOne, JD Edwards World
Sage:
Sage ERP X3
Salesforce.com:
Salesforce CRM, Chatter, Salesforce1, Force.com, OAuth
SAP:
SAP ERP, SAP R/3, SAP S/4 HANA, SAP BusinessOne (2004, 2005, 2007, 8.8), SAP Business One HANA, SAP All-in-One (SAP A1)
SugarCRM:
Sugar
Syspro:
Syspro ERP
Other Proven Integrations:
Unfor, Manhattan SCALE, Microsoft: Dynamics GP and Dynamics NAV; NetSuite, Oracle: Agile PLM, E-Business Suite, PeopleSoft, Primavera, Transportation Management; Remedy, Roadnet, and many more.
When you choose Magic, you also benefit from:
Technical Specification
Operating Systems:
Windows, Linux
Databases:
MS-SQL, DB2, DB2400, Oracle, My SQL, ODBC
Communications:
FTP/S, SFTP, HTTP/S, TCP, SMTP/S, IMAP/S, POP3/S, SOAP, REST, OData, HL7
Technology Connectors:
Magic xpa, LDAP, HL7, Java, .NET
File Management:
Directory Scanner, Encryption, File Archive, File Management, File Splitter, XML Handling
Data Formats:
XML, CSV, HL7, ZIP, HTML, Flat File, MS Word, MS Excel, WSDL, JSON
Data Transformation:
XSLT, Data Mapper, XML Parsing, Encodings (ANSI, UTF8, UTF16, Base64)
Mail:
Email, IBM Notes/Domino, MS Exchange, SMTP/S, IMAP/S, POP3/S
Messaging:
JMS, MSMQ, Webshere MQ, MQTT
IOT:
MQTT
Utilities:
.NET, Java, BAM, Data Mapper, Delay, Enable/Disable Flow, Flow Data, Publish/Subscribe (PSS), ODS, Abort Flow, Encryption, File Splitter, File Archive
Web Services:
SOAP, REST, WCF, OData
Security:
Encryption, HTPPS, WS-Security, SMTPS, IMAPS, SSL/TLS
In-Memory Data Grid:
Caching, High Availability, Fail-over, Auto Recovery, Scalability