xpi Integration Platform Powered By GigaSpaces InsightEdge For Real-Time Ai and Machine Learning
Fast streaming and advanced analytics provide magic customers real time insights to action required for increased operational efficiency, competitiveness and innovation
GigaSpaces, the provider of InsightEdge, a leading in-memory real-time analytics platform for instant insights to action announced that InsightEdge has been selected by Magic Software Enterprises to power their Magic xpi end-to-end integration platform.  This integration will enable companies to make faster and smarter data-driven decisions to boost revenues, reduce costs, mitigate risks, and outperform competitors.
Providing the free flow of data between leading ERP, CRM, finance, MES and other systems, Magic xpi now leverages InsightEdge which unifies real-time analytics and AI to achieve lean manufacturing, perform predictive maintenance and automate operational workflows. Machine learning models run with sub-second latency on hot data as it's born, while being enriched with historical context from data lakes, resulting in accurate real time actionable insights for improved decision making.
"InsightEdge enables our customers to generate insights for C-level executives and line of business management and optimizes automated processes from an unprecedented amount of data generated by sensors and GPS readings from machines, products, employees, as well as inputs from shop floor apps, and back office systems,"
"The combination of integrated data from multiple sources, extreme data processing and real-time analytics provides insights that impact leaner operations and an improved customer experience."
Magic xpi running with InsightEye enables several data driven processes.
For example, using sensors to monitor equipment to predict breakdowns, performing predictive analytics to determine which and how many quality tests should be performed, and sharing  supplier production data with partners and customers to identify delivery delays and adjust processes accordingly.
McKinsey has noted that predictive maintenance initiatives can show a 10% reduction in annual maintenance costs and a 20% reduction in downtime with a 25% reduction in inspection costs for AI-driven predictive maintenance models.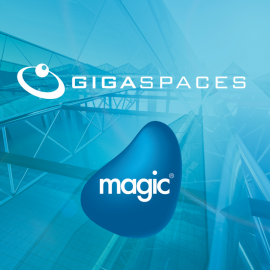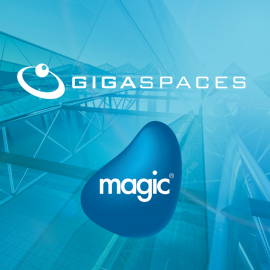 This is not the first collaboration between Magic and GigaSpaces. Magic has been using GigaSpaces' XAP In-memory computing platform for years to deliver fast data streaming, aggregation and calculations, and last year announced an InsightEdge integration leveraging InsightEdge as an IoT Hub.  Magic xpi customers will now have an option to run InsightEdge to experience the benefits of real time analytics.
"Data integration combined with real-time advanced analytics is needed to fuel the factory of the future"

"With the incorporation of InsightEdge capabilities into Magic xpi, we are bringing the power of machine learning to the shop floor and the back office to help companies optimize processes to maximize efficiencies and exceed their revenue goals."
GigaSpaces and Magic Software are presenting "The Insight-Driven Organzation: Leverage AI to Transform Your Data Into Revenue" on November 6th at the Design Offices in Munich Germany, starting at 8:30AM. The event will include case studies and discussions about market challages, trends and real-world best practices for enterprise to innovate with confidence and become insight-driven. For more information on the event click here.
Originally posted on Market Watch – https://www.marketwatch.com/press-release/magic-software-enterprises-integration-platform-powered-by-gigaspaces-insightedge-for-real-time-ai-and-machine-learning-2018-10-31