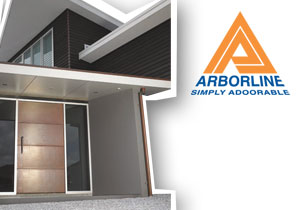 Twenty years ago Hamilton-based specialist door manufacturers Arborline Doors approached Integral with a request for an automated solution to promote efficiency and support product ordering processes and company growth.
Fast forward to 2013 and Arborline Doors still runs the Integral solution. Andrew Jaques, Arborline's General Manager, says today's application looks entirely different to the original but the system still uses the same business logic as that developed two decades ago.
The software designed and implemented by Integral has definitely delivered an impressive and significant return on investment over the years.
says Andrew.
Integral initially started developing an ordering system to help with cutting timber frames to spec for doors and we haven't looked back since rolling it out.
In the beginning Arborline Doors implemented a manually-intensive Excel spreadsheet to manage invoicing and factory cards until realising that company growth could be supported through automation of business critical processes such as order management and invoicing.
Automation to increase efficiency and support growth is a philosophy that still stands with Arborline Doors today. The company is focused on streamlining operations with the intention of enhancing customer service and customer relationships and realises the value delivered by the Integral solution in enabling them to achieve those objectives.
All our orders used to be phoned, faxed or emailed in
says Andrew.
We process 500 – 600 doors a day which leaves a lot of room for human error in transposing the figures and information to factory cards for production. Today, through the software solution developed by Integral, our customers are able to place orders directly into our system by completing an online form. This becomes a job card received at our factory in near real time. The system then delivers an order specification confirmation direct to the customer.
Integral uses the Magic development environment to enable rapid development and delivery of business-critical applications; Magic was the platform of choice used to port the technology used by Arborline Doors over the years.
In 2012, Integral extended the capacity of the software to support the relationship between Arborline Doors and Kitchen Studio by developing an integrated link between the two. The link enables Kitchen Studio trade customers to make product orders which are processed by the system to produce order specifications which are then sent to Arborline Doors. Upon receipt of an order, the Arborline Doors system sends the specifications directly to the machines for production and assembly.
For Andrew Jaques and the team at Arborline doors working with Integral has been an excellent business decision:
Integral has enabled us to increase our throughput to the factory, significantly decrease the risk of human error in transposition of figures, save time and improve our customer service – all of which support our growth by making it easy for clients to deal with us.
– Andrew Jaques – General Manager Arborline Doors.