Download this White Paper to find out why SalesForce and SAP integration is essential to maximize each system's output, reduce errors, and improve overall organizational efficiency.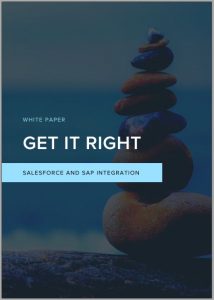 SAP is one of the leading enterprise resource planning (ERP) solutions and Salesforce is the most popular Customer Success Platform
However, when Salesforce and SAP function separately, each system becomes an isolated information silo. Data entities often overlap, and there is a large amount of duplicated data that requires manual updating to maintain consistency in both systems.
As a result, enterprises are faced with tedious and lengthy error-prone manual tasks that slow down processes and increase operational costs.
Users of both systems experience increased frustration and reduced efficiency, as they are required to switch back and forth between each system, while contending with different user interfaces and workflows.
As more of the inter-system procedures are performed manually, the monitoring, tracing, metering, and auditing of the system processes become almost impossible.