GeoMaster Mobile App now available for iOS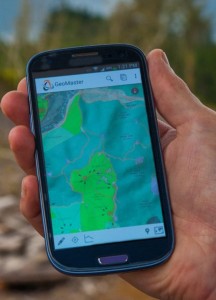 The latest version of GeoMaster Mobile, created by the Atlas developers at Integral, is now available for iOS devices from the Apple App Store.
You can now have all your forest information with you, wherever you are, on iPad or iPhone.
This app does not require mobile coverage as all the data is housed on the device, but can display the user's position in the forest using the phone's GPS capability. The data provided includes maps, details of stands, and all events recorded for those stands. The app enables users to record notes about stands, along with sketched polygons, and photos. When within mobile coverage this information can be emailed back to the office for recording in GeoMaster.
Features:
Requires: