Schweppes rolls out EU/UK EAI Solution based on Magic Software's xpi Integration Platform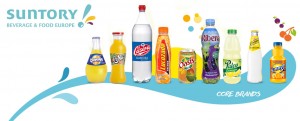 Magic xpi Integration Platform deployed as centralized integration solution for company's European operations.
Magic Software announced that Suntory Beverage & Food Europe (Suntory Group), a leading supplier of soft-drinks beverages (including Orangina, Schweppes, Champomy, Pulco, Oasis, and more) in Europe and part of the Suntory Group, has deployed Magic xpi as the central enterprise application integration (EAI) solution for its business units in France, Spain, Belgium, Poland and the United Kingdom.
On the look out to replace its existing ETL solution with an EAI solution, Orangina Suntory France implemented a first project using the Magic xpi Integration Platform to connect the French group's CRM and ERP applications. Magic xpi's prebuilt and certified connectors for Salesforce and SAP ECC integration enabled the project to be completed with exceptional speed, in just one month. After such success, Suntory Beverage & Food Europe (Suntory Group division) implemented Magic xpi to harmonise its distribution processes across its CRM, ERP, Supply Chain Management (SCM), HR and partner systems for its European operations.
Originally posted by NewsFactor – https://newsfactor.com/