Magic xpi Integration Platform Receives Recommendation From Ovum
Magic xpi's code-free and scalable solution simplifies integration for both integration practitioners and non-developers, drives developer productivity and reduces total cost of ownership (TCO)
Magic software announced today that Ovum, a leading analyst firm, has recognized Magic as a well-positioned integration platform (middleware) provider in the last Ovum "On the Radar" report. Written by Saurabh Sharma, Principal Analyst at Ovum, the report states that the solution includes built-in connectors for a variety of industry-leading enterprise applications, a wide range of standard IT protocols and standards.
Magic's drag-and-drop approach to data mapping shortens the time required to integrate applications and data sources in an organisation or on the cloud, allowing both skilled integrators and non-developers to implement integration processes. The organisations using the solution are able to go live within only three weeks on average.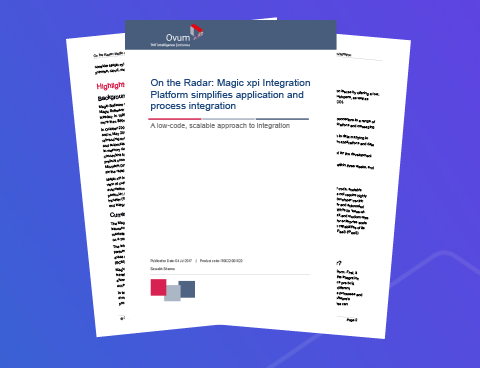 The report states that the Magic solution is a good option for small-and medium-size enterprises (SMEs) because the platform is code-free, is compatible with the market's leading technologies, and shortens project completion times.
Ovum's "On the Radar" report is a series of research notes about vendors bringing innovative ideas, products and business models to the market.
For large organisations, the report recommends putting Magic xpi "on the radar" because the solution decouples the business logic from the integration layer and includes development tools and built-in connectors.