Magic Software becomes a Microsoft One Commercial Partner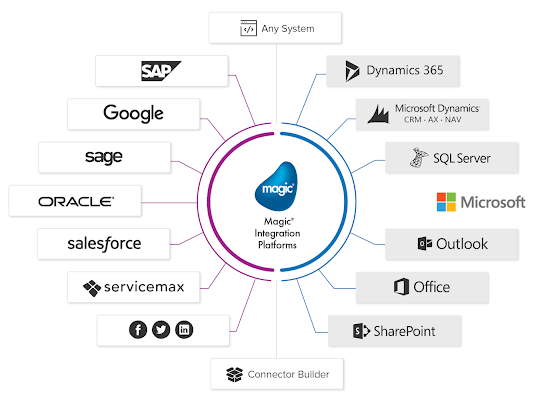 New status confirms Magic's integration expertise with its Azure-ready Magic xpi and Magic xpc Integration Platforms
Magic Software announced it has earned Co-Sell Ready Status through the Microsoft One Commercial Partner (OCP) Program for its Magic xpi integration platform and Magic xpc cloud-based integration platform as a service (iPaaS). Magic Software representatives will collaborate with Microsoft field sales teams and Microsoft partners worldwide on targeted customer integration and application development opportunities.
Using Magic xpi integration platform and the Magic xpc cloud-based integration platform as a service, companies can connect a wide range of business ecosystems by implementing out-of-the-box certified and optimized connectors to extend the capabilities of leading ERP, CRM, finance, and other enterprise systems.
"We are very excited to collaborate with Magic and support the digital transformation journey of many customers aspiring for better integration between their applications and databases. Magic brings great value to our customers and partner eco-system that can deliver integration faster, at low risk and natively in the cloud,"
"Microsoft is a trusted partner for enterprises, and we are thrilled to align Magic Software's go-to-market with Microsoft through our new Co-Sell Ready status. We are eager to partner with Microsoft and leverage our market leadership, vendor certified connectors and API-driven high productivity environment to improve digital customer engagement by enabling seamless data sharing throughout the enterprise,"
The Microsoft Co-Sell Program aligns Microsoft's large, global salesforce behind partners like Magic Software to drive top-notch solutions for customers. To be eligible, businesses must submit customer references that demonstrate successful projects, meet a performance commitment, and pass technology and sales assessments, all of which Magic Software was able to quickly demonstrate.
Orginally Posted By Magic Software – https://www.magicsoftware.com/press-release/magic-software-becomes-a-microsoft-one-commercial-partner-with-the-highly-coveted-co-sell-ready-status/