Any System, Anywhere, Anytime! Using System Integration To Optimise The Manufacturing Process
Core systems within the manufacturing cycle need to be connected to optimise productivity and performance levels.
More manufacturers are becoming smart factories by leveraging the latest innovations such as the Internet of Things (IoT) to optimize production. All of these innovations require the ability to collect, share, and process reams of data.
However, if all the separate systems used to manage each phase of manufacturing are siloed, management cannot gather the insights they need. Allowing the free flow of information through each stage of the manufacturing cycle is necessary to pave the way to the factory of the future.
An integrated enterprise resource management (ERP), manufacturing execution system (MES), and product life-cycle management (PLM) platform empowers Industrie 4.0 by connecting core systems and provide manufacturers with all the necessary data to gain the needed insights to achieve higher levels of quality and productivity.
The building blocks of a product life-cycle
ERP manages the business of manufacturing products; MES controls the production process itself; and PLM tracks the design of the products being built.
The three systems have distinct purposes, but each of them holds data essential for understanding each stage of the product lifecycle to maximize manufacturing efficiency and quality.
Companies that manufacture products in-house typically use an ERP system to manage information that is shared between their finance, sales, and manufacturing departments. Companies use ERP systems to track orders throughout the manufacturing process, from receipt and production through delivery, in order to get a better understanding about ideal inventory levels and delivery lead times. MES is designed to help track and manage manufacturing information in real time, giving managers greater visibility into the shop floor to help improve quality, productivity, and production time. MES works either minute by minute, or over 10 or 20-minute increments collecting and processing data in real time to control and coordinate manufacturing processes for traceability and performance improvement.
PLM is a business system designed to control the product record across all of the development stages—from concept to design to production. Using a PLM system to manage product data, manufacturers have continuous access to the single and correct version of their product record at any time and can implement an efficient and streamlined change process.
With a PLM system, a company can manage all types of product data including bill of materials (BOMs) and product files. A PLM system also enables a company to communicate changes to the product designs to every supplier in the supply chain.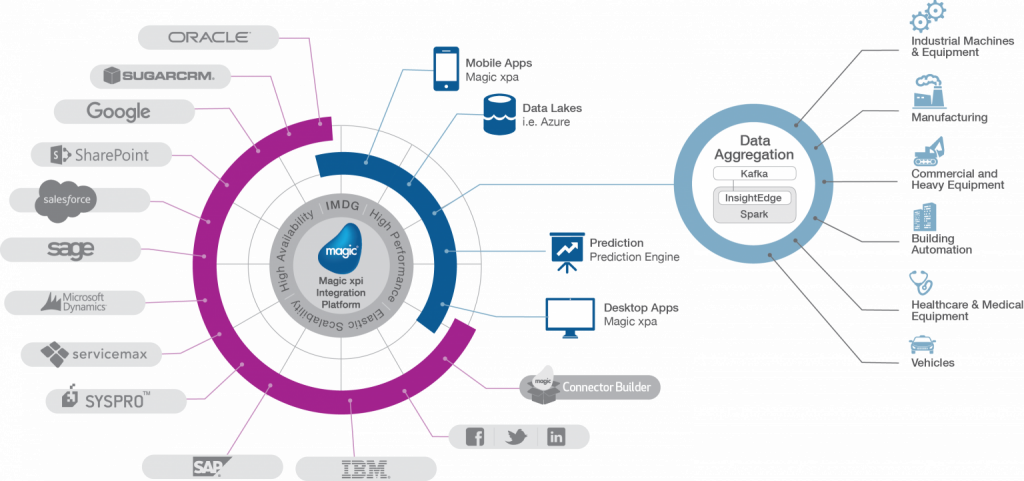 Process optimisation with system integration
ERP to MES integration is becoming standard for syncing customers, orders, and inventory data with the shop floor to meet actual production requirements, and for reconciling material consumption for better planning.
Typically, MES populates the ERP system with the quantities manufactured and scrapped as well as performance levels. The real-time business management information it provides can be used to fine-tune production schedules.
MES to PLM integration, is becoming more popular as manufacturers are looking for ways to accelerate product ramp-up times and create a feedback loop between the various elements of the product cycle, including design and production, to better manage quality.
PLM feeds the MES with bill of materials information, which can speed up a production cycle by eliminating incomplete or inaccurate information sharing between product designers and the shop floor. With MES and PLM integration, manufacturers also have the flexibility to customize production for a particular country or plant, which can eliminate a lot of manual labor to fine tune manufacturing processes.
Integrating ERP and PLM provides a clear and comprehensive view on the status of engineering change orders including the corresponding work orders, inventory changes, and supplier communications.
Sharing information between these systems closes the gap between the stage of product development and delivery and replaces error prone labor intensive manual processes required to consolidate information.
Although there are a lot of benefits to integrating these core enterprise systems, the process is still relatively new. Engineering, information technology (IT), and operations technology (OT) have treated their systems as their own assets that are used to meet their individual goals. Closed systems together with communication protocols and proprietary networks, have created complicated technical hurdles hindering data from flowing easily between systems.
When systems are integrated together, there's traditionally been a lot of reliance on hand coding, which can break when there are system modifications to either one system or the other, requiring constant maintenance and rework. Multipoint integrations using middleware can provide a standard method for managing and reconciling data that accelerates and simplifies the integration process.
ERP, MES, and PLM systems each have distinct functionalities that give an organization better control over its manufacturing processes and can pave the way toward Industrie 4.0 when they are used together. Together, they can accelerate production and improve quality by becoming the backbone for innovation to keep improving the manufacturing process.
Originally Posted By Magic Software – http://blog.magicsoftware.com/2018/06/using-system-integration-to-optimize.html