Aerzener Machinenfabrik Opts For Magic xpi Platform
German Company, Aerzener Maschinenfabrik, one of the world's leading manufacturers of two-shaft rotary pistons, harnesses the power of Magic xpi in its integration to connect Salesforce to internal enterprise solutions.
Magic xpi native Salesforce adapter allows Aerzener Maschinenfabrik to receive multiple benefits including: 360-degree real-time views of customer data, easily integrate Salesforce CRM with internal enterprise systems, and replace complex programming of interfaces.
360-degree real-time view of customer information
Providing sales with a 360-degree customer view including credit status and social media comments, Magic xpi gives real-time data of accurate information for Aezener Maschinenfabrik. Now the company is able to achieve a high level of customer service from the integration.
SalesForce CRM easily integrates with internal enterprise systems using Magic xpi integration platform
Magic xpi integration significantly expands the speed and scope of enterprise data connectivity with an easy communication of business processes. The back-end systems of industrial high-performance machines were easily integrated to the Salesforce platform. Magic ensures synchronized data flows back and forth making all information available in the internal systems and Salesforce. Aezener Maschinenfabrik benefits from the flexible connectivity to different systems, file types and data formats connecting between Salesforce platform to internal enterprise solutions.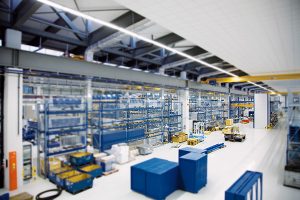 Built-in SalesForce connector will replace complex programming of interfaces
For the Salesforce integration, Magic xpi provides a standard connector, eradicating the need for complex programming of interfaces. Magic xpi Studio makes is simple with code-free, drag and drop environment and comprehensive visual data mapper. If required, Aerzener Maschinenfabrik GmbH can link any of its other cloud and on-premise systems with Magic xpi. Magic xpi acts as a hub and enables clear and comprehensive solutions that can be easily maintained.
It also enabled the company to connect the SalesForce Platform with their back-end systems in an effiecent way, providing another tremendous benefit.
Originally Posted By Magic Software – http://blog.magicsoftware.com/2018/01/aerzener-maschinenfabrik-salesforce-integration.html