Success Story: Bishop – Wisecarver Group Speeds Up Project Delivery With Magic Software's Integration Platform

The Cloud-Based scalable IT landscape improves efficiency through seamless data exchange between ERP, CRM, and eCommerce platforms.
Magic Software announced that Bishop-Wisecarver Group, a WBENC-certified, woman-owned group of companies that offer guidance solutions, contract specialty manufacturing and mechatronic-based engineering services, has implemented Magic xpi Integration Platform to automate the flow of data between multiple mission critical systems.
The resulting cloud-based, heterogeneous IT landscape improves sales efficiency and speeds up project delivery by making integrated sales and data more reliable and easily accessible. Magic xpi enables seamless bi-directional data exchange between an ERP system, a B2C eCommerce platform, SugarCRM, and a B2B eCommerce platform. The company's previous solution was point-to-point integration with hard-coded scripts between the ERP system, SugarCRM and the other systems. Bishop-Wisecarver Group realized that the point-to-point integration approach was no longer viable since the solution was neither scalable for upcoming changes that the company was making nor for future upgrades of the various applications involved.
With the new centralized integration system based on Magic xpi, salespeople now have information at their fingertips, reducing the length of the sales cycle while improving customer service and data reliability. Magic's pre-built Sugar connector and its ability to connect to any third party system enabled quick development and deployment. Time to market for integration projects has been reduced significantly, with each project completed on the average in just a few weeks. The resulting system provides accurate, real-time exchange of data optimizing sales and other functions throughout the organization while eliminating repetitive manual data entry to make more time for strategic work. External sales reps are now more productive, empowering them to independently carry out tasks that previously required the assistance of a Bishop-Wisecarver Group employee.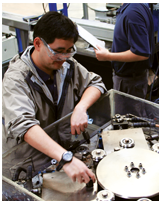 The Project
Industry : Linear and Rotary motion solutions
Magic Solution: Magic xpi Integration Platform
Objectives
Results
Originally posted by Magic Software – https://www.magicsoftware.com/press-release/bishop-wisecarver-group-speeds-up-project-delivery-with-magic-softwares-integration-platform/